Softship Advanced Port Agency Solution
With more than 25 years experience and 200+ installations world-wide, Softship is the leading provider of software solutions to the international liner shipping. We were founded in Germany in 1989 by IT specialists who had the vision of creating and delivering high quality IT solutions to the shipping industry. Their aim was to use technology to introduce efficiencies and to streamline many of the processes inherent within liner shipping.
With the background of this deep knowledge of the transport business we created Softship.SAPAS, a unique, cloud-based, pay-as-you-go port agent solution. Softship.SAPAS allows you to control your entire agency and husbandry services in a single, modern solution.
Create precise offers
Produce offers quickly and accurately using customisable templates
Utilise the Softship.SAPAS tariff engine to automatically calculate offers
Convert the offer into a port call in seconds
Mobile port calls
Handle all of your port calls in one system and on one screen
Set up and record your daily tasks
Customise Softship.SAPAS according to your needs
Carry your port call in your pocket ? Softship.SAPAS is mobile and web-based
Accurate documentation
Ensure full control over your accounts
Create your own branded templates
Ensure full control over your accounts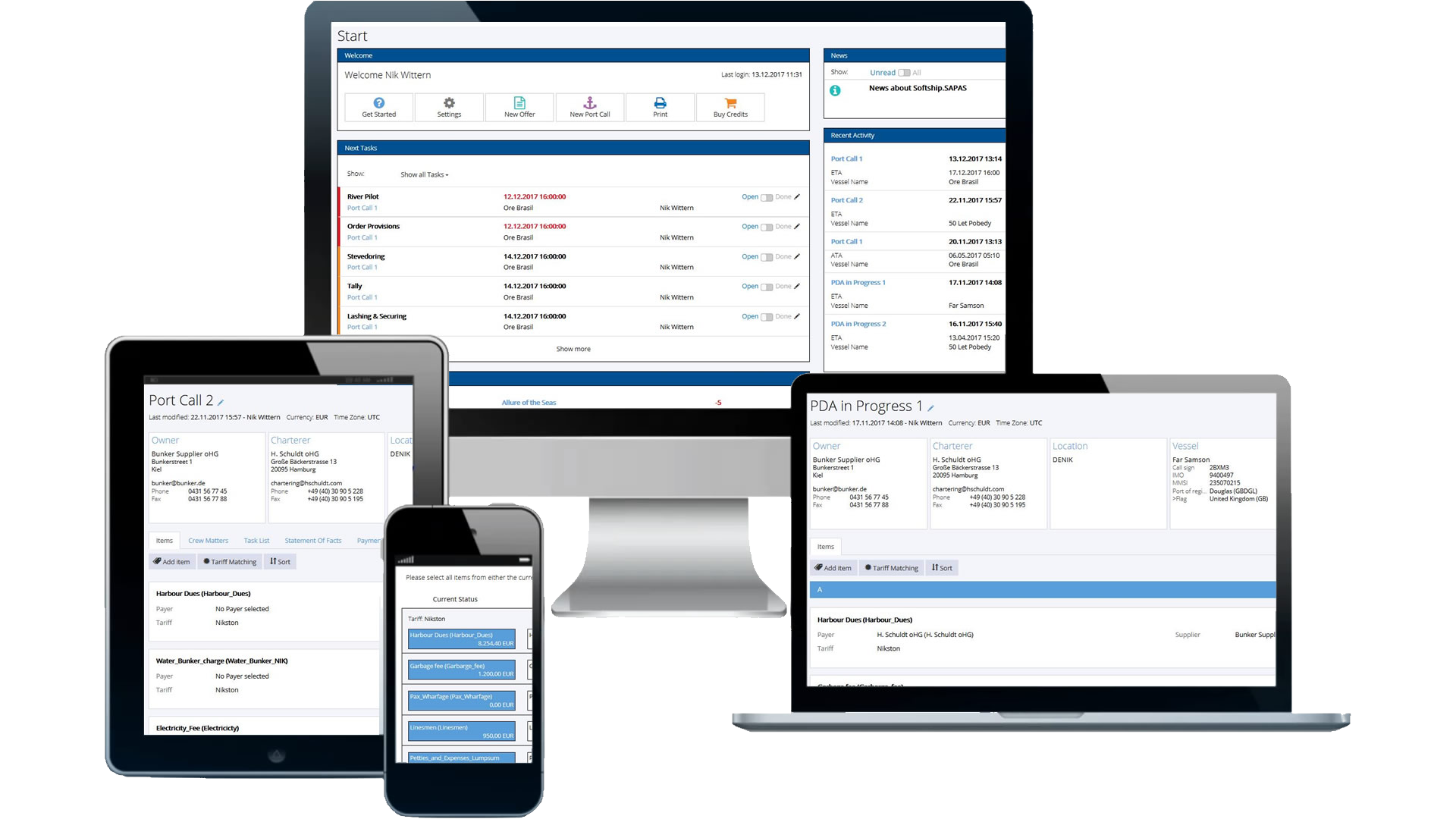 You use Softship.SAPAS services by "pay-as-you-go". This gives you full flexibility and means there is no upfront investment. You use as much or as little of the service as you wish.
Registering with Softship.SAPAS is easy. Simply click ?register? on the Softship.SAPAS product site. Once you?ve entered the required information you will be up and running.
Softship.SAPAS charges for offers or port calls only. No other charges for registration or usage apply.
Your company can purchase credits online at any time ? these are credited to your company account.  Your credits will never expire and remain in your account until you are ready to use them.
The perfect port agency and husbandry solution
Softship.SAPAS is a unique, pay-as-you-go, innovative solution giving your entire organisation complete visibility over all your port agency and husbandry activities.
Easy-to-use tools let you maintain and organise company and customer information, create offers for customers, manage port calls, keep track of all your disbursement accounts, and create and submit your statements of fact.
100% correct - 100% in time - 100% documented
REGISTER FOR FREE
Register for your free Softship.SAPAS account
or contact us directly