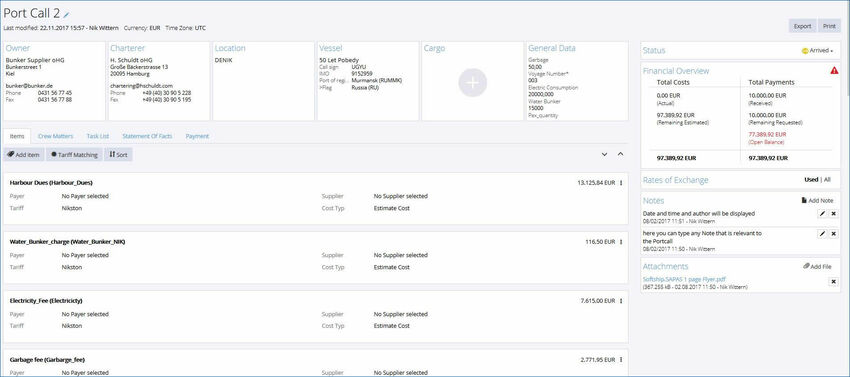 Port Calls
Port call functionality includes:
Task list
This facility ensures you include and complete all the activities related to the port call. Template task lists are provided which you may modify as required. The status of each task is clearly shown and those that are overdue or not complete are highlighted. Reminders and priorities can also be set.
Crew handling
The crew handling facility within Softship.SAPAS enables full management of crew and passenger issues such as visa arrangements, scheduling medical appointments, hotel and travel arrangements. Softship.SAPAS will also generate required documentation such as crew lists, crew's effect declaration, health declaration or passenger lists. Costs associated with crew matters are automatically added to your disbursement account or your port call record.
Statement of facts (SoF)
A statement of facts is generally required on completion of each port call. Softship.SAPAS includes SoF templates - which you may modify- to record all relevant information as the port call progresses. Your SoF can be easily reported with the SAPAS report writer and emailed direct to the recipient.
Disbursement accounting
A Departure Disbursement Account (DDA) is automatically created from the statement of facts and includes estimated and actual costs for each line item.
From this, SAPAS will generate a Final Disbursement Account (FDA). This will include attached copies of all supplier invoices.
While creating the FDA, Softship.SAPAS will check that all items listed have been flagged as actual costs and will highlight if any invoices have not yet been received. Once complete, you can "lock" the FDA and create a final report for your principal.
Financial Overview
At any stage of the port call, all costs and received payments are visible making it easy to identify underpayments and ensure agreed financial terms are met.